Gomed Gemstone Price: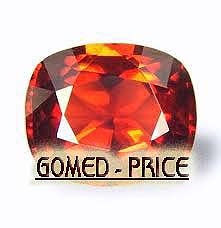 Regular Quality Gomed Gemstone Cost Starts from Rs 150 per Carat onwards.
Fine Quality Gomed Gemstone Price Starts from Rs 400 per Carat.
Super Fine Quality Gomed Gemstone Price Starts from Rs 1000 per Carat onwards.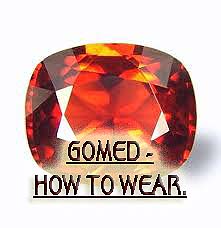 Procedure to wear a Gomed Hessonite gemstone
• The weight of the Gomed gemstone should be more than 4.5 Carat.
• Gomed gemstone should be studded in silver ring or pendant or Panch Dhatu.
• On Saturday Morning :
 Put this ring with a Cup with a mixture of 1 spoon curd , 1 spoon Honey , 2 Spoons Milk , ½ Spoon Sugar , ½ Spoon Ghee.
 They do your regular Morning Prayers.
 After your Regular Prayers, Take this Ring out of the Above Mixture and wash it with Water or Ganga Jal .
 Then Recite this Mantra: "Om Ram Rahuve Namah Om", 108 times.
• DON'T WEAR IT NOW • Gomed is to be worn on a Saturday at 2 hours after sunset. ( Approx at 8 pm at Saturday Night )
• The wearer should donate any one of the following sesame seeds (Black TIL ) , mustard oil, black cloth, blanket or money to a Brahmin or priest or A horse should be fed with grass .


ALL GOMED HESSONITE GEMSTONES COME WITH A GEMSTONES LABORATORY CERTIFICATE OF AUTHENTICITY FROM A REPUTED GEMSTONE LABORATORY .
Copyright - Astrologer Numerologist Amit Lamba - Mumbai INDIA

Yellow Gomed Gemsone Mystical Properties , Rahu-ratna, Hessonite , Gomed stone , Canada , India, Sri Lanka, astrology ,horoscope ,hindu ,astrology, Astrological Benefits , Gomed Effects , Hessonite effects , Rahu Planet , Hessonite Healing , Properties , Rahu's Mantra , Lord Hanuman , Gemini, Virgo, Libra, Sagittarius, and Pisces. Cancer , leo , physical , mental illnesses ,GEMSTONES, Lucky Stones , GEMS GUIDANCE, Gemologist , RATNA ADVICE ,Gemstone Consultant , Birth Stone , Gems Advice , Gems Expert , ENERGIZED GEMSTONE - Mumbai, India , Precious Stones , Semi Precious , GEMS, Lucky Gems , Birth stones , Lucky Stones . Gemstones India, Gemstones Mumbai, RATTAN, RATTAN India, ASTROLOGY India, Neelam , Pukhraj , Shani , Pearl, Gemologist , Ruby, Manik ,Red Garnet , Pearl, Moti, Moonstone, Emerald, Panna ,Aquamarine, Zade, Diamond, Heera White Sapphire, Blue Sapphire ,Opal, Lucky Gems , Lucky Stones.