Rahu is the ascending node of the moon. It's natural significations include worldly desires, worldly benefits, It is by nature unpredictable and creates sudden changes and influences, rigidity and passion.

It is similar to Sani or Saturn in its nature and influence. Traditionally, rahu is known as the "head of the dragon".


THE STORY OF RAHU AND KETU

As per Hindu mythology, During the " Samudra Manthan ", RAHU the Asur managed to drink the immortal AMRIT by Deceit by standing alongside the Devtas .
On Noticing RAHU Taking the AMRIT - Lord Vishnu became infuriated and cut the head of RAHU to Kill Him . But Since RAHU managed to drink the AMRIT he could not die. As the result the head Became RAHU and the Rest of the Body Became KETU . Thus the Story Goes that these two parts of his body became the shadow planet by the name of "RAHU" and "KETU".

Wearing a Genuine GOMED at the time of Mahadasha or Antardasha of " RAHU " helps in a native to get rid of the tribulations caused by the malefic "RAHU"
Gomed is actually a term which means cow fat It is also believed that it refers to the color of Cow s Urine, as the color has similarities to it.
In India, Gomed, also known as Gomedhaka , Gomedhak and Raju Ratna.

Hessonite or Gomed is generally not worn based on the sign of zodiac of a person. Those who actively participate in politics are recommended to use Gomed. Furthermore, those who are occupied by the Rahu planet in the tenth house of natal chart are also suggested to wear Gomed.
Hessonite or Gomed are one of the types of garnets Stones. It originates from a calcium aluminium silicate.
The Hessonite garnet also known as Gomed is also called the Cinnamon stone .

Gomed Gemstone Price: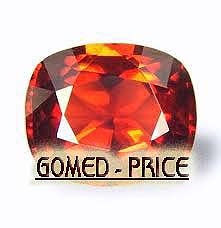 Regular Quality Gomed Gemstone Price Starts from Rs 150 per Carat onwards.
Fine Quality Gomed Gemstone Price Starts from Rs 500 per Carat.
Super Fine Quality Gomed Gemstone Price Starts from Rs 1000 per Carat onwards.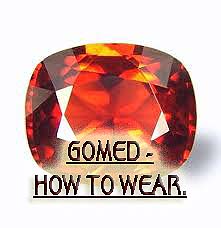 Procedure to wear a Gomed Hessonite gemstone
• The weight of the gemstone should be more than 4.5 Carat.
• It should be studded in silver ring or pendant or Panch Dhatu.
• On Saturday Morning :
 Put this ring with a Cup with a mixture of 1 spoon curd , 1 spoon Honey , 2 Spoons Milk , ½ Spoon Sugar , ½ Spoon Ghee.
 They do your regular Morning Prayers.
 After your Regular Prayers, Take this Ring out of the Above Mixture and wash it with Water or Ganga Jal .
 Then Recite this Mantra: "Om Ram Rahuve Namah Om", 108 times.
• DON'T WEAR IT NOW • Gomed is to be worn on a Saturday at 2 hours after sunset. ( Approx at 8 pm at Saturday Night )
• The wearer should donate any one of the following sesame seeds (Black TIL ) , mustard oil, black cloth, blanket or money to a Brahmin or priest or A horse should be fed with grass .


ALL GOMED HESSONITE GEMSTONES COME WITH A GEMSTONES LABORATORY CERTIFICATE OF AUTHENTICITY FROM A REPUTED GEMSTONE LABORATORY .
Copyright - Astrologer Numerologist Amit Lamba - Mumbai INDIA

For Expert Name Change Numerology Astrology Horoscope Guidance for Business , Job Marriage , Contact Best Astro Numerologist .

Mr Amit Lamba on 9819015736 / 9324012326 .
Yellow Gomed Gemsone Mystical Properties , Rahu-ratna, Hessonite , Gomed stone , Canada , India, Sri Lanka, astrology ,horoscope ,hindu ,astrology, Astrological Benefits , Gomed Effects , Hessonite effects , Rahu Planet , Hessonite Healing , Properties , Rahu's Mantra , Lord Hanuman , Gemini, Virgo, Libra, Sagittarius, and Pisces. Cancer , leo , physical , mental illnesses ,GEMSTONES, Lucky Stones , GEMS GUIDANCE, Gemologist , RATNA ADVICE ,Gemstone Consultant , Birth Stone , Gems Advice , Gems Expert , ENERGIZED GEMSTONE - Mumbai, India , Precious Stones , Semi Precious , GEMS, Lucky Gems , Birth stones , Lucky Stones . Gemstones India, Gemstones Mumbai, RATTAN, RATTAN India, ASTROLOGY India, Neelam , Pukhraj , Shani , Pearl, Gemologist , Ruby, Manik ,Red Garnet , Pearl, Moti, Moonstone, Emerald, Panna ,Aquamarine, Zade, Diamond, Heera White Sapphire, Blue Sapphire ,Opal, Lucky Gems , Lucky Stones.


Reputation ManagementSubmit Express